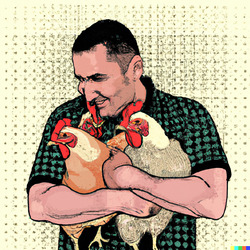 Keeping backyard chickens has become increasingly popular over the years as more and more people seek to live a sustainable and self-sufficient lifestyle. But is it legal for Michigan community association residents to keep chickens in the backyard of their condominium unit or subdivision home?
In our experience, community association governing documents that allow backyard chickens are the exception rather than the rule. In fact, the community's restrictions will usually specifically prohibit "farm animals" or "livestock", and those terms are generally understood to include chickens. If a community association is considering allowing backyard chickens for the first time, the association will likely need to hold a vote on amending the governing documents to allow chickens.
Even if the governing documents permit farm animals or livestock, it may be prohibited by municipal ordinance. Even if permitted by the governing documents, an association would need to check with their local municipal government to see if there are any regulations or restrictions on keeping chickens in their locality. Some cities and towns have specific ordinances that limit the number of chickens you can keep, require permits, or prohibit them altogether.
Proponents of keeping backyard chickens point to the benefits of a source of fresh eggs and the positive effects on mental health and well-being that come with caring for animals. They claim lower levels of depression and anxiety as a benefit, as well as increased feelings of community connection.
However, making the change to a chicken-friendly community may be controversial. Some neighbors may object to the noises and odors associated with chickens. Residents may even raise the question of whether chickens constitute a "nuisance", which is commonly prohibited in the governing documents. Chickens can also be susceptible to a variety of diseases and parasites that can easily cause sickness in humans, so the association should work with legal counsel to adopt rules and regulations requiring owners to provide them with regular veterinary care, space, shelter, and access to food and water. The Board of Directors may even wish to research coop models and adopt architectural standards so they know exactly what will be built. Measures should also be taken to protect chickens from predators, such as foxes, raccoons, and coyotes.
With that said, requests to keep emotional support animals as an accommodation under state and federal fair housing laws, despite any restrictions in the governing documents, are not limited to cats and dogs. The U.S. Department of Housing and Urban Development (HUD) has confirmed that "unique" animals other than a ""small, domesticated animal that is traditionally kept in the home for pleasure rather than for commercial purposes" may also be an emotional support animal. However, HUD has also stated that unique animals will face a higher bar when an individual attempts to prove their need for that animal to address their disability. In Michigan, we are closely following current federal litigation between an individual and a City where an individual cites a need for six emotional support chickens. The matter initially arose when the City cited a code violation against the plaintiff-individual for maintaining chickens contrary to City ordinance. Eventually, the plaintiff made a request for a reasonable accommodation, indicating that the chickens are emotional support animals. The plaintiff's doctor diagnosed him with disorders which result in limitations of major life activities, which is key to establishing a need for an emotional support animal. The homeowner's case has survived a motion for summary judgment by the City. Whiteaker v. City of Southgate, No. 22-10011 (E.D. Mich. Jan. 19, 2023)  In the case, the homeowner made a request for his emotional support animals, and has indicated that all six of his emotional support animals operate as a flock and each is necessary to mitigate the symptoms of his disability as they create a calm, peaceful and relaxing environment for him. He has contended that he maintains them in accordance with published guidance and in a safe manner, and they do not pose a threat to the public at large. The City has cited to concerns over public health and safety, claims that chickens can pose a public health risk, and argues the request poses an undue financial and administrative burden on the City. There were outstanding questions of fact regarding both parties' positions, therefore, the court indicated that the case could not be dismissed summarily for this reason.
Overall, the decision to keep backyard chickens should be made with careful consideration of your governing documents, association residents' opinions, local laws and regulations, as well as the health and well-being of both the chickens and the surrounding community. Also, as is the case with any request for accommodation, an association must be careful to review the specific facts related to a request for accommodation for chickens as emotional support animals, including working with their attorneys to properly review the request. We would not want to see your Association find itself on the wrong end of a fair housing act violation that could have been prevented with proper legal advice.